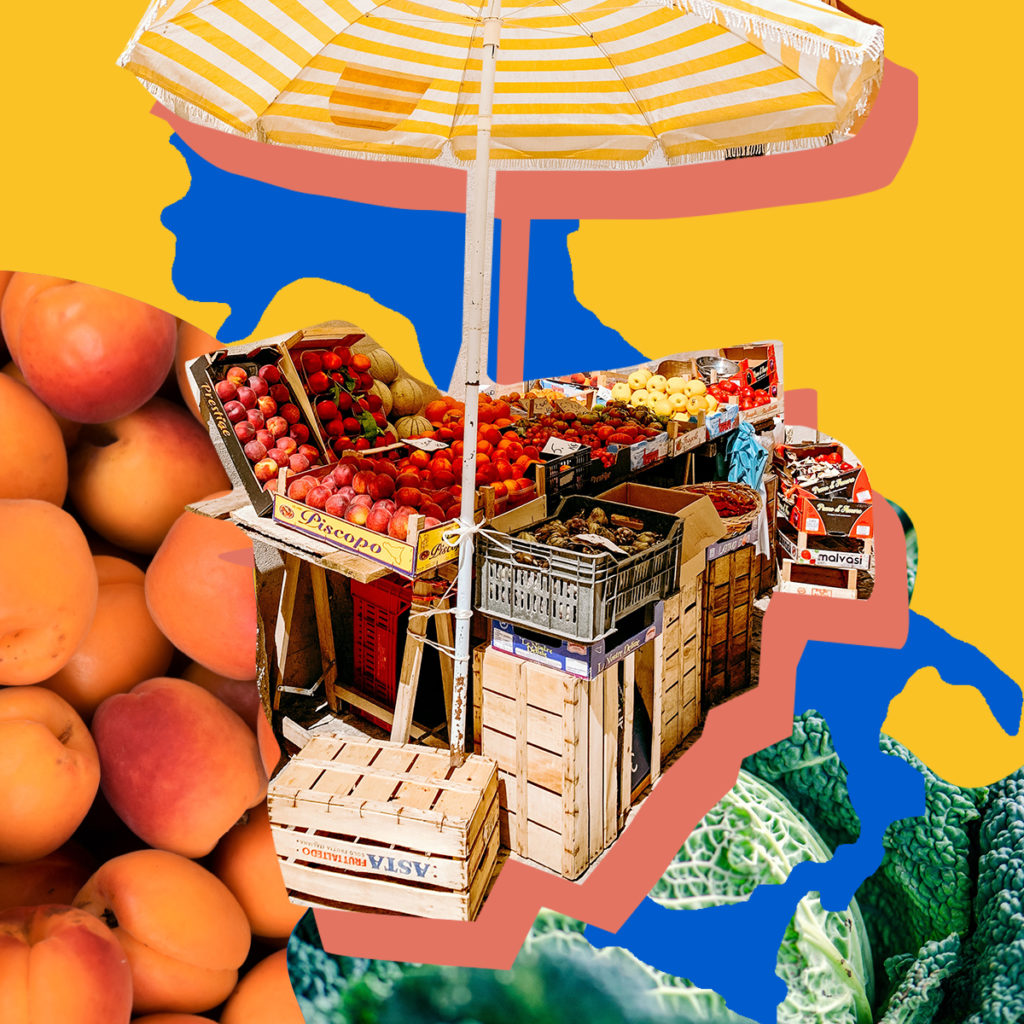 Enough Far-Flung Veg
On typical Thursday evenings, 43-year-old environmental activist Alfredo Gagliardi from Rome takes his shopping cart and goes out for a regular weekly food supply. But he's not going to a supermarket. It's a small communal space in Rome's central neighborhood of Testaccio where he picks his veggies, fruits and other food products. There, local farmers and food producers deliver what Gagliardi pre-orders on the internet each week as a member of one of Rome's solidarity buyers' groups.
The "supermarket economy" is unjust to both producers and consumers and to the environment, Gagliardi says. And it's also unsustainable, which is the lesson Italians learned the hard way during the lockdown caused by the pandemic of COVID-19.
During the spring of 2020, the pandemic began to change people's shopping behaviors: fewer visits to supermarkets and more deliveries, which helped small producers regain their space in the market. Italians realized that a more sustainable system had to be oriented around moving goods, not people.
All of that is what Gagliardi's group – one of around sixty Gruppi di Acquisto Solidale (G.A.S.) or Solidarity Purchase Groups in Rome – have been advocating for years (he's been a member for twelve years). Through the direct purchase of organic, local – and often 'zero kilometer' – goods at the price both producers and consumers think is fair, members of buyers' groups believe they are supporting a fairer trading system, which is also more protective of the environment. This is an alternative food supply chain, and the same model exists throughout the country.
The G.A.S. movement was born in northern Italy in the 1990s, when families and neighbors started gathering in groups to collectively buy organic products directly from nearby farmers. As the demand for locally produced organic food has been growing, so has the critical consumption – such as the recognition of the importance of environmental sustainability behind the product. The idea was then picked up by other food activists and "critical consumers" who began forming similar collectives. Thirty years later, the biggest portion of G.A.S. groups are still concentrated in the north of Italy but the model resonates with an increasing number of people in the south as well.
The number of self-registered G.A.S. groups in the country has increased by almost six times from 153 in 2004 to 977 in 2014, according to research. The authors indicated that the real numbers are probably much higher, as many G.A.S. groups are spontaneous informal neighborhood groups, sometimes even having no names.
G.A.S. groups purchase all sorts of products – from vegetables and fruits to cosmetic products. Most of them collaborate with local producers to reduce transport-related pollution and to establish direct relationships with them. Gasisti, as groups' members like to call themselves, often choose products that are produced without using pesticides, herbicides, and chemical fertilizers. Moreover, they pay attention to the packaging and processing of the products and choose producers who use reusable or eco-compatible goods.
"When we select the farmers and producers to cooperate with, we tend to give priority to small producers. They usually practice less intensive forms of production," Gagliardi explains.
Some groups even support farmers and small producers with financial incentives to help them maintain their work in a sustainable way. Gagliardi's group, for example, occasionally gives an informal financial loan to farmers who wish to increase the production of organic fruits or vegetables but have no money to do so. Two years ago, the group decided to financially support a local farmer to grow organic strawberries which they, in fact, bought from him in advance. "He was happy to grow them for us, and we were very happy to eat them once they grew," Gagliardi adds.
Not only do they purchase the goods collectively, but G.A.S. groups organize all of their activities as collectives, such as the money collection or division of the purchased goods. They hold regular meetings where they discuss group tasks and divide voluntary work between themselves. During 2020, most of their meetings have been held online due to the pandemic.
"Everyone is doing something," Gagliardi explains. Every member is expected to take an active role in his group. The participation is one of the significant elements of the G.A.S. experience as it allows members to transform the purely economic fundamentals of buying in supermarkets into a relationship of solidarity, which brings people together and allows them to share time and resources. Gagliardi has so far served as the accountant and coordinator of his collective. For G.A.S. groups, the term "solidarity" is a guiding principle not only in the choice of products and producers but in the way Gasisti work between themselves.
Research seems to back up their claims. A 2015 study titled "The Case of Solidarity Purchasing Groups in the Marche Region, Italy" indicated some of the environmental benefits of G.A.S. model. For example, on average food is transported over 700 kilometers from food to farm in a conventional, industrialized supply chain. While within the G.A.S. system, it's estimated to be 20 to 50 kilometers. Furthermore, the "environmental quality" of food produced within G.A.S. is superior to the conventional one, it states, as water consumption and emissions have been reduced by 53 and 71 percent, respectively.
It may seem simplistic, and a bit old-fashioned, but could localized structures like these be better ways to get our weekly veg? And do they build on the farmer's market and CSA models we're already so familiar with?
Lidija Pisker is a freelance journalist living between Italy and the Balkans, and writes about food, environment, and humanitarian issues.